Family Dentistry
A boost in confidence and happiness is possible after having your smile rejuvenated.
The first step in prevention is to get your teeth checked and cleaned on a regular basis. It is essential to help you practice proper dental hygiene at home.
Dentistry for the Whole Family
At the Dentist at Framingham, we provide dental services for the whole family. We recommend that kids come to the office as early as age one and look forward to bringing them in!
Regular dental cleanings help our patients of all ages prevent cavities, periodontal disease, and other problems with their teeth. We recommend professional dental cleaning at least every six months for optimal oral care. At these appointments, the dental staff will take x-rays, check your teeth, and provide an oral cancer screening. 
What About the Radiation from X-Rays?
How much radiation do patients get from X-rays? We get asked this question frequently, and I wanted to provide some helpful information! The dental field has worked hard to reduce radiation from X-rays. Just take a look at the graph below provided by Beverly Hills Dentists!
Restorative Dentistry
Fillings, Crowns, Bridges, Dentures Oh My! We offer them all to get your smile back where it needs to be. At each checkup, our dentist will develop a treatment plan with you on how we can help to restore your smile. A lot goes into developing this treatment plan! First off, we always make sure your needs/ wants are taken into account. Here at The Dentist at Framingham, we believe every patient is different and their treatment plan should reflect that. That is why we work WITH you on your treatment on our way to improving your smile. 
Fillings
If a tooth has a small cavity or chip, many times the dentist can fix it with a filling. After removing any cavity/ bad tooth, a small white packable material is placed in the tooth to replace any lost structure. This can be done in the office, is fairly quick, and matches the shade of your teeth.
Crowns/ Bridges
Not quite sure what a crown is? You're not the only one! Here at The Dentist at Framingham, we call crowns "little tooth helmets." When your own tooth is starting to break down or has lost a lot of natural tooth structure, a crown can come in handy to protect the tooth. A crown fits over your existing tooth and is made of a hard dental material (typically porcelain or zirconia) to withstand all the chewing you do while your tooth remains protected underneath.
Missing a tooth completely? Bridges are used to replace teeth that are missing. It consists of three crowns connected together, with the middle crown replacing your missing tooth and the outer crowns covering your neighboring teeth. A dental bridge is a permanent option that will effectively fill any gap in your smile while improving your ability to chew.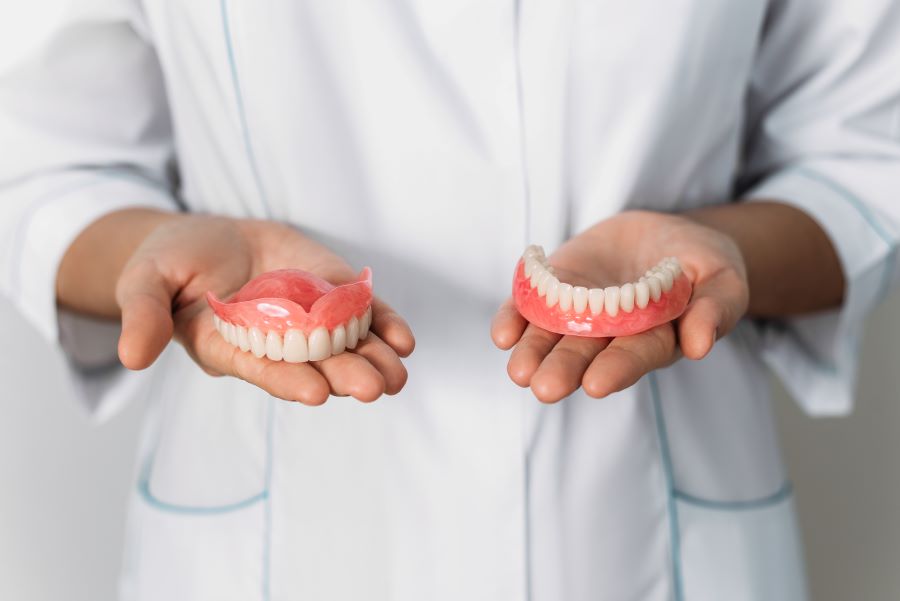 Dentures
Our dentures are custom-made for each patient to provide optimal comfort and functionality. We offer both traditional dentures as well as implant-supported dentures that can be clicked into place for better hold/ retention.

Periodontal Services
Periodontal Disease is a problem that some patients face with their oral health. It is inflammation/ infection in the gums that brings on the loss of bone around your teeth. 
It is caused by hardened bacterial plaque getting below your gums and causing infection. This hardened plaque (or calculus/ tartar) can be really difficult to remove by you at home. This is where our hygienists come in! They have techniques/ instruments to remove that hardened plaque and get you back to peak oral health. Besides performing a "deep cleaning" at our office, our dental care team can work with you on tools to use at home to keep any periodontal problems at bay. This can include: 
Special Oral Rinses

Water Flossers

Specific types of toothbrushes/ picks

Flossing techniques